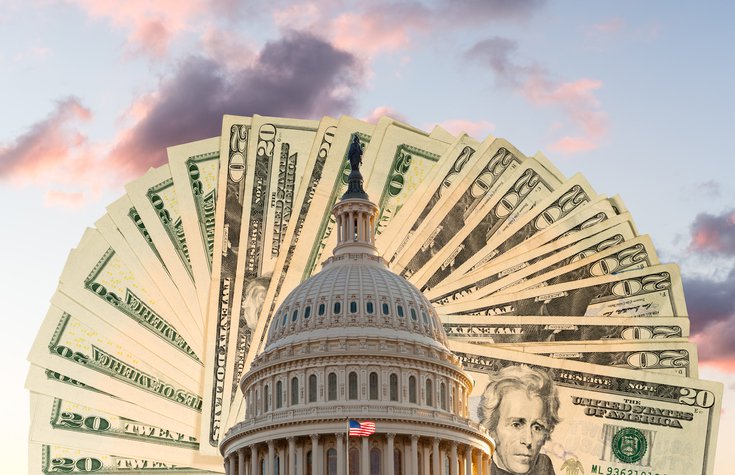 Image source: Getty Images
Step by step, a third round of stimulus checks moves closer to a vote.
On Monday, the House Budget Committee approved President Joe Biden's $1.9 trillion COVID-19 relief bill, moving Americans one step closer to a third round of direct stimulus payments.
What happens next
The president's bill — known as the American Rescue Plan (ARP) — will next go to the House Rules Committee. That committee will determine which proposals to keep in the bill before sending it to the floor for debate and a vote. For example, most House Republicans have made it clear that they will fight Biden's $15 minimum wage proposal, meaning it may have to be shelved for the time being. Despite the work to be done, House Speaker Nancy Pelosi is confident that the House of Representatives will hold a final vote by Friday, Feb. 26. Once the bill clears the House, it will move to the Senate. Senate Majority Leader Chuck Schumer vows to have the bill passed by March 14, the date on which boosted unemployment assistance will expire.
How much you can expect
Individuals with an adjusted gross income (AGI) of less than $75,000, heads of household with an AGI of less than $112,500, and couples with an AGI less than $150,000 can expect $1,400 per eligible recipient, including dependents. The first round of payments included $500 for children under age 17 and the second round of payments included $600 for children under age 17, but this bill proposes that families receive a full $1,400 for each dependent, including college-age students.
For example, a married couple earning $85,000 with three dependents can anticipate a direct payment of $7,000 (5 x $1,400 = $7,000).
When the third round of checks is issued, eligibility is expected to be slightly different than the first two rounds. While income limits for full $1,400 payments remain the same, the income at which partial payments phase out entirely has been lowered. Singles with an AGI up to $100,000, heads of household with an AGI up to $150,000, and couples earning up to $200,000 will be eligible for partial stimulus payments. No direct stimulus funds will be sent to anyone over those income thresholds.
What's the timeline?
Once the first two stimulus packages were signed, the IRS was able to get most stimulus payments out the door and into bank accounts in less than three weeks. Even though we're in the middle of tax season, the IRS says that they are prepared to do another quick turnaround. If Schumer is correct and the Senate moves the bill to the Oval Office by March 14, you can expect your payment by the first week of April.
What to do if you don't receive a check
If you've moved residences or changed banks and the IRS can't locate you, get your 2020 tax return filed as soon as possible so that the IRS has your new address and banking information. If you are eligible for stimulus checks you did not receive, line 30 on Form 1040 or 1040SR of your 2020 tax return allows you to claim a Recovery Rebate Credit. Even if you're not normally required to file a tax return, the IRS suggests you do so this year if you're due stimulus funds.
The credit works like this: If you are due a refund on your 2020 taxes, the amount of direct stimulus payment(s) missed will be added to your refund total. For example, if you're due $1,500 but missed both the $1,200 and $600 payments, $1,800 will be added to your refund for a total of $3,300 ($1,500 + $1,800 = $3,300).
If you owe money when you file your 2020 tax return, the IRS will keep the Recovery Rebate Credit and use it to reduce the amount owed. Let's say you owe $3,000, but your credit is $1,800. The IRS would apply the $1,800 to your tax debt, leaving you with a balance due of $1,200 ($3,000 – $1,800 = $1,200).
It's been a tough 12 months. In addition to half a million COVID-19 related deaths, millions of Americans have faced job loss, concerns about how they will pay for housing, and food insecurity. Ideally, the next round of stimulus checks will help families find their financial footing until the situation improves. In the meantime, if you've been hit hard by COVID-19, visit our coronavirus hardship loan page to learn more about your options.
Reference: https://www.fool.com/the-ascent/personal-finance/articles/stimulus-check-update-congress-moves-one-step-closer-to-another-round-of-direct-stimulus-payments/?source=eptyholnk0000202&utm_source=yahoo-host&utm_medium=feed&utm_campaign=article