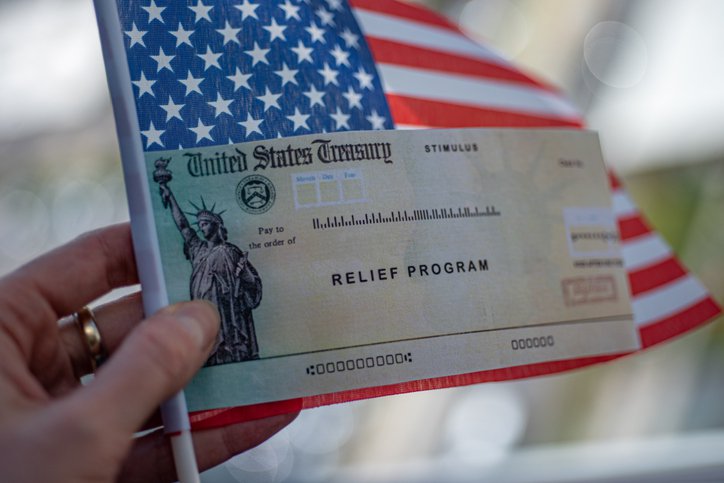 Image source: Getty Images
Most Americans are in line for more money soon, but not higher earners.
Early on Friday morning, lawmakers in the Senate approved a budget resolution. This isn't normally notable because it means the government has agreed on how to fund their operations. But that's not quite what happened this time. Instead, this resolution is a vehicle to allow the passage of President Joe Biden's coronavirus stimulus bill.
Democrats plan to use a process called reconciliation to pass the COVID-19 legislation, which requires a simple majority in the Senate. Without reconciliation, they would need to get 60 votes to overcome a filibuster — and there aren't currently 10 Republicans willing to vote in favor of the president's plans.
To pass reconciliation, however, it must be attached to budget legislation (even if it's just a shell budget). The Senate has now taken a key step forward to expedite the swift passage of the stimulus legislation.
However, lawmakers also made clear that the stimulus checks included in Biden's plan will not go to every American. In fact, eligibility rules may be stricter than those on the first and second COVID-19 payments.
Stimulus bill moves forward, with amendment to limit checks for high earners
A budget resolution requires 51 votes to pass the U.S. Senate, which is currently split. Republicans control 50 votes and Democrats control the other 50. Republicans oppose the use of reconciliation to pass Biden's stimulus plan. As such, Friday's vote passed on a 51-50 basis. Vice President Kamala Harris provided the 51st tie-breaking vote.
As part of the process, senators are allowed to introduce an unlimited number of amendments. One of those was a bipartisan amendment to ensure "upper income" Americans didn't receive any stimulus funds from this third check. It passed with almost unanimous support, getting 99-1 votes.
The amendment didn't specify exactly what "upper income" constitutes. Maine Republican Susan Collins proposed the amendment, along with other senators including Democratic Senator Joe Manchin. Collins has previously voiced concern that families with incomes as high as $300,000 could receive stimulus funds under Biden's plan.
Manchin also commented, "I don't think a single person on this floor would disagree to target the relief to our neighbors who are struggling. There are other families who have not missed a single paycheck as a result of this pandemic. It does not make sense to send a check to those individuals."
It's not clear exactly what new restrictions will be put in place to limit eligibility for the stimulus check to only those who need it. Previous COVID-19 payments began to phase out at an income level of $75,000 for single filers and $150,000 for married joint filers. Income limits could very well be set lower this time.
Americans can expect stimulus payments soon
Friday's passage of the budget resolution in the Senate means that most other Americans can expect a deposit in their bank accounts soon — even if the country's highest earners won't be getting any stimulus money. Democrats will push the bill through on a partisan basis even if they can't get any GOP support.
The House, too, moved quickly on Friday, passing the amended budget late in the afternoon after the Senate acted.
The next steps will involve actually drafting a bill to put Biden's $1.9 trillion proposal into legislative form. And as long as Democrats can get votes from all members of their caucus, it will soon make its way to the president's desk for his signature.
Source: https://www.fool.com/the-ascent/personal-finance/articles/senate-moves-stimulus-bill-forward-agrees-to-restrict-high-earners-from-getting-checks/?source=eptyholnk0000202&utm_source=yahoo-host&utm_medium=feed&utm_campaign=article